第1回アジア古生物学会議北京大会(The 1st Asian Palaeontological Congress) :First Circular, 要旨フォーマット
2019年08月21日
日本古生物学会会員の皆様
本年,第1回アジア古生物学会議北京大会が開催される運びとなりました.
日本古生物学会は第1回アジア古生物学会議 北京大会を後援しております.学会員の皆様の多くのご参加を歓迎いたします.
日本古生物学会会員若手会員向けの参加助成制度もございますのでご活用ください.
要旨締め切り日は2019年8月31日と(2019年9月15日までに延期されました!)なっており,締め切り日までの日数が少ないですが,ふるってご参加ください.
Invitation
中国古生物学会会長からのInvitation letterが届いております.
要旨フォーマット
Second Circular
Second Circularが公開されました(2019.10.16)。
First Circular
※以下情報はFirst Circularからの転載です.詳細はCircular本体をご覧ください.
The 1
st

Asian Palaeontological Congress
- with celebrations on the 90
th

Anniversary of the Palaeontological Society of China
November 17-19, 2019, Beijing, China
First Circular
The 1st Asian Palaeontological Congress (APC 2019) will be held from November 17 to 19, 2019 in Beijing, with celebrations on the 90th Anniversary of the Palaeontological Society of China. This congress is co-sponsored by the Palaeontological Society of China (PSC) and the Palaeontological Society of Japan (PSJ). The topic of APC 2019 will be "Palaeontology of New Eras in Asia: collaboration and innovation". During the congress, the Asian Palaeontological Association (APA) will be officially established. This congress will exhibit the recent progresses achieved by a variety of topics of the palaeontological studies in Asian regions, and will strengthen the collaborations and communications for palaeontological societies among Asian countries in the fields of scientific research, education, fossil protection and museum displays.
1. Congress venue
The main conference venue is located in the China Hall of Science and Technology (CHST), located in No.3 Fuxin Road, Haidian District of central Beijing.
2. Organizations
Sponsored by: Palaeontological Society of China (PSC), Palaeontological Society of Japan (PSJ)
Supported by: China Association of Science and Technology (CAST), Ministry of Natural Resources of PRC, National Natural Science Foundation of China (NSFC), Chinese Academy of Sciences (CAS), National Committee of Palaeontological Expert, Fossil Protection Foundation of China
Organized by: Nanjing Institute of Geology and Palaeontology, CAS; Institute of Vertebrate Palaeontology and Palaeoanthropology, CAS; Peking University; Institute of Geology, Chinese Academy of Geological Sciences
3. General schedules
Nov.17, 2019 (Sunday): Registration and ice breaker
Nov.18, 2019 (Monday): Opening session with celebration of 90th Anniversary of Palaeontological Society of China; Invited Plenary Talks; Evening: Welcome reception
Nov. 19, 2019 (Tuesday): Scientific sessions and poster sessions; museum and institute visits; closing session
4. Scientific sessions
A series of scientific sessions or symposia are planned for the congress, including the following topics (the session conveners will be announced in the second circular):
Early life evolution and Cambrian Fossil Lagerstätten;
Biodiversity and palaeoenvironment in the Paleozoic;
Biodiversity and ecosystem in the Mesozoic and Cenozoic;
Dinosaurs and their evolution;
Origin and evolution of fossil vertebrates and humans;
Molecular palaeontology and geobiology;
Palaeobotany and palynology;
Micropalaeontology and its practical applications;
New technologies and methods in palaeontological research;
Natural history and palaeontology museums and science education.
5. Language
The official language of the congress is English.
6.Social events
Ice breaker, welcome reception, book and journal exhibitions; visit to museums and institutes
7. Publications and proceedings
The Abstract Volume will be printed before the congress, and will be circulated for participants upon registration. The proceeding volumes will be published in society journals or other international journals, including Acta Palaeontologica Sinica, Paleontological Research and Palaeoworld.
8. Abstract submission:
Each abstract is limited to one A4 page. Use Times New Roman font, 12 points for the text. Each abstract includes: title, author(s), affiliations of the authors, corresponding author* and email address, and key words. Figures and tables should not be included in the abstracts. See attached file for abstract format.
The deadline for abstract submission will be: August 31st, 2019. Extended to September 15th,2019.
Please submit your abstract as an attached MS Word file to PSC Secretariat: psc@nigpas.ac.cn.
※要旨のフォーマットファイル(word)
9. Transportation and hotel information
The China Hall of Science and Technology (CHST), located in No.3 Fuxin Road, Haidian District of central Beijing with convenient public transportation services, including Metro Line 1 (Muxidi Station) and several bus lines, connecting the Beijing West Railway Station and Beijing Railway Station. CHST is about 34 km to the Beijing Capital International Airport.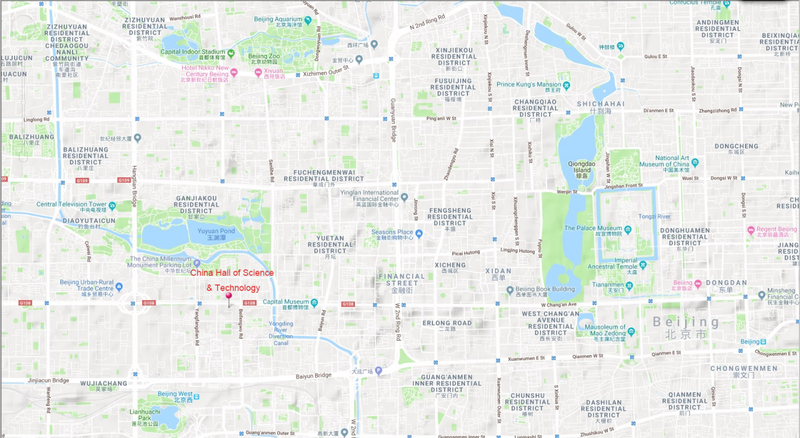 We will book some hotel rooms in CHST, but with recommendations for other hotels in the vicinity, including Guohong Hotel, New Century ANA Hotel, and Xiyuan Hotel. You are also encouraged to book your hotel rooms by using some web travel service links, like C-Trip (https://hotels.ctrip.com) or Booking.com (https://www.booking.com).
10. Registration fees:
Regular participant: RMB 2000.00 Yuan
Student participant*: RMB 1500.00 Yuan
Accompanying participant: RBM 1000.00 Yuan
*Valid student ID is required
11. Important dates
July 1, 2019: First Circular
August 31, 2019: Deadline for abstract submission
September 1, 2019: Second Circular
October 1, 2019: Third Circular with programme
12. Contacts:
Secretariat of Palaeontological Society of China
E-mail: psc@nigpas.ac.cn;
Tel:025-83282138; Web: www.chinapsc.cn