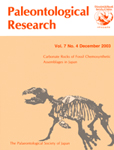 "Papers in Press" includes peer-reviewed, accepted manuscripts of research articles, reviews, and short notes to be published in Paleontological Research. They have not yet been copy edited and/or formatted in the publication style of Paleontological Research. As soon as they are printed, they will be removed from this website.

Please note they can be cited using the year of online publication and the DOI, as follows:
Humblet, M. and Iryu, Y. 2014: Pleistocene coral assemblages on Irabu-jima, South Ryukyu Islands, Japan. Paleontological Research, doi: 10.2517/2014PR020.